If you create or own art concerning menstruation or menopause and are interested in showing it on thesepages (it's free!), contact MUM
Marie Claire magazine (Italian edition) featured several of the above artists in an article about this museum and menstruation in 2003. The newspaper Corriere della Sera (Io Donna magazine) (Milan, Italy) and the magazine Dishy (Turkey) showed some of the artists in 2005 in articles about this museum.



The Art of Menstruation at the
Museum of Menstruation and Women's Health
---
Menstrual blood pictures
by Petra Paul (Vienna, Austria)
page 2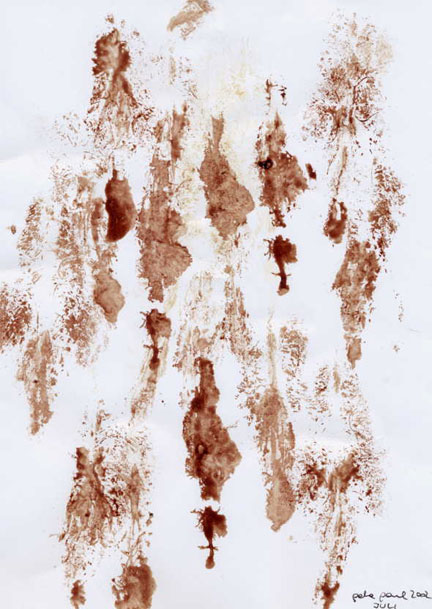 All pictures are 30 x 21 centimeters (about 11.1 x 8.2 inches) and use the artist's menstrual blood.
More menstrual blood pictures by Petra Paul: NEXT page 1, 3, 4 Interview with Petra Paul
NEXT artist: Ana Elena Pena
See all the artists in the links in the left-hand column.
If you create or own art concerning menstruation or menopause and are interested in showing it on these pages (it's free!), contact MUM

© 2003 Harry Finley. It is illegal to reproduce or distribute work on this Web site in any manner or medium without written permission of the author. Please report suspected violations to hfinley@mum.org