See a Modess True or False? ad in The American Girl magazine, January 1947, and actress Carol Lynley in "How Shall I Tell My Daughter" booklet ad (1955) - Modess . . . . because ads (many dates)


Teeve menstrual tampons, Italy, 1967 (Johnson & Johnson)
Tampon problems, unrehearsed!
Tambrands kindly donated the box as part of a large gift of ancient menstrual products.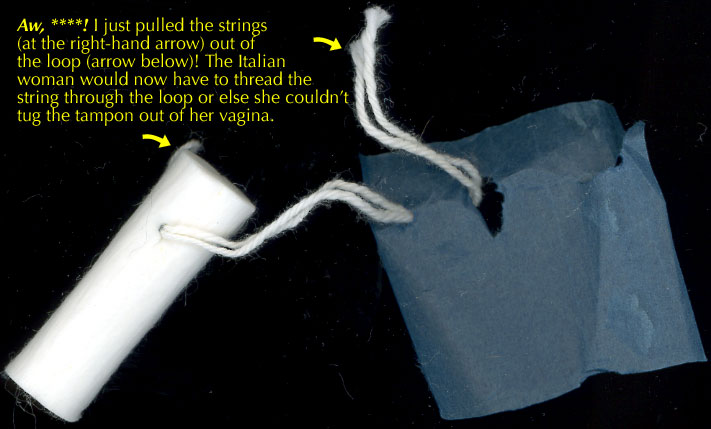 Obviously, these problems don't mean the tampon couldn't do its job - but the lack of care in designing created unease. Why did Johnson & Johnson associate itself with this, a company long claiming excellence?
NEXT: instructions - box - tampon
See ads for Italian menstrual pads - See also Saba Ad (Denmark) - Brevia confetti panty pads and tampons (1988, France)
Dr. White's tampons ad (United Kingdom & 1989, 3-D glasses) - Spalt-Tabletten pain pills (Germany, 1936) - Ria
panty pads with real pad (German)
©2007 Harry Finley. It is illegal to reproduce or distribute any of the work on this Web site in
any manner or medium without written permission of the author. Please report suspected violations
to hfinley@mum.org