Kotex ad emphasizing shame, 1992
See more Kotex items: First ad (1921) - ad 1928 (Sears and Roebuck catalog) - Lee Miller ads (first real person in amenstrual hygiene ad, 1928) - Marjorie May's Twelfth Birthday (booklet for girls, 1928, Australian edition; there are many links here to Kotex items) - Preparing for Womanhood (1920s, booklet for girls; Australian edition) - 1920s booklet in Spanish showing disposal method - box from about 1969 - "Are you in the know?" ads (Kotex) (1949)(1953)(1964)(booklet, 1956) - See more ads on the Ads for Teenagers main page



Ad for menstrual pads, 1987, 1990, Italy
Although I don't read Italian, these ads have features in common with American advertising, including an endorsement from a medical organization for a product (see the second and third pictures), something that reassures the public.
These are 4 large files; I want you to be able to read the ad copy, if you can read Italian.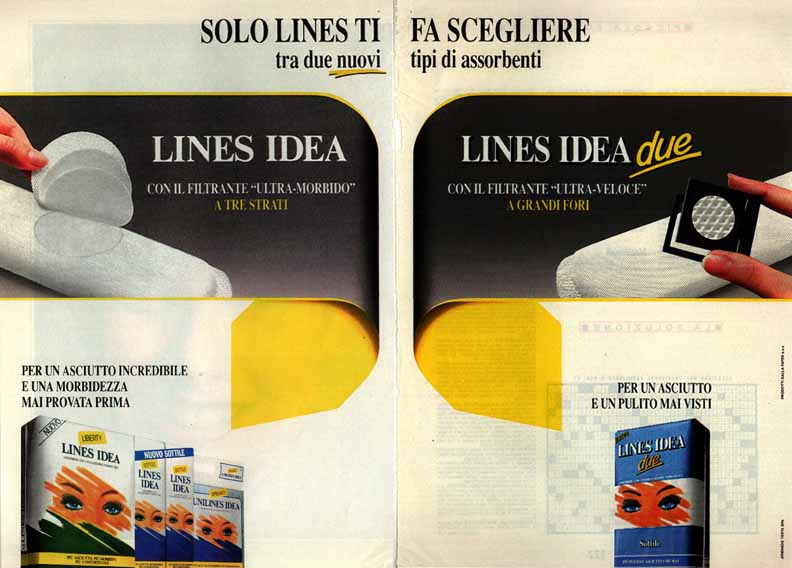 These are facing pages in the magazine Amica, February 1990.
From the magazine Moda, February 1987. Words are enlarged below.
These are the words for the above ad.
Magazine and date unknown.
=
© 1998 Harry Finley. It is illegal to reproduce or distribute any of the work on this Web site in any manner or medium without written permission of the author. Please report suspected violations to hfinley@mum.org