See more Tampax items: American ad from August 1965 - nudity in an ad: May 1992 (United Kingdom) - a sign advertising Tampax during World War II - the original patent - an instruction sheet from the 1930s
See a Modess True or False? ad in The American Girl magazine, January 1947, and actress Carol Lynley in "How Shall I Tell My Daughter" booklet ad (1955) - Modess . . . . because ads (many dates).


Was Tampax the first French commercial tampon?
Tampax menstrual tampons, 1938, France and U.S.A.
Instructions, inside, French & American versions
Read the instructions, below, the French above the American for comparison. The leaflet is in four panels, dark blue ink and printed on both sides. As a matter of fact the blue looks like Kotex blue, a blue that puzzled Dr. Lillian Gilbreth in her 1927 report to Johnson & Johnson and puzzles still.
The far-right panels I separated and enlarged and placed below the others.
I spot checked the texts and one seems to be a translation of the other.
Folded up the leaflet measure 5" x 3" (12.6 x 7.7 cm).
See instructions for the 1936 Tampax - and the box, etc.
Tambrands generously donated these boxes, part of a large gift of menstrual products from its archives.
Harry Finley created the images.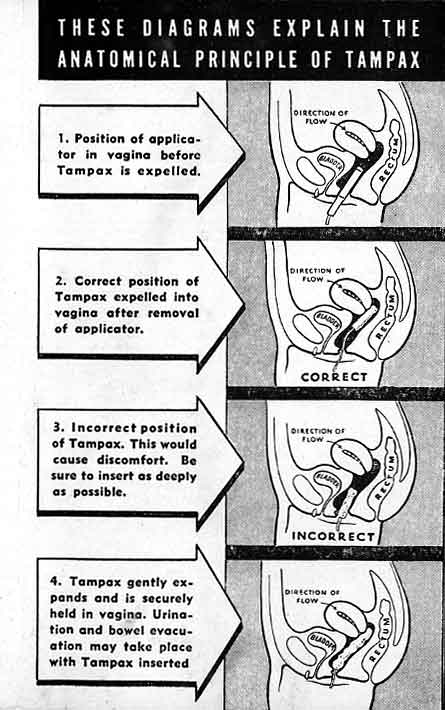 The panels above form the far-right panels of this side of the instructions.


---

NEXT: exterior of directions - boxes, sample, typography, tampons
See more Tampax items: See instructions for the 1936 Tampax - and the box, etc. - See Dutch Tampax ads from 1938 (and here, virtually identical to a contemporary American ad)American ad from August 1965 - nudity in an ad: May 1992 (United Kingdom) - a sign advertising Tampax during World War II - the original patent - an instruction sheet from the 1930s
copyright 2006 Harry Finley