See ads for menarche-education booklets: Marjorie May's Twelfth Birthday (Kotex, 1933), Tampax tampons (1970, with Susan Dey), Personal Products (1955, with Carol Lynley), and German o.b. tampons (lower ad, 1970s)
And read Lynn Peril's series about these and similar booklets!
See more Kotex items: First ad (1921) - ad 1928 (Sears and Roebuck catalog) - Lee Miller ads (first real person in amenstrual hygiene ad, 1928) - Marjorie May's Twelfth Birthday (booklet for girls, 1928, Australian edition; there are many links here to Kotex items) - Preparing for Womanhood (1920s, booklet for girls; Australian edition) - 1920s booklet in Spanish showing disposal method - box from about 1969 - "Are you in the know?" ads (Kotex) (1949)(1953)(1964)(booklet, 1956) - See more ads on the Ads for Teenagers main page



Underpants for menstruation (hygienisches Beinkleid)
designed by gynecologist J. Großmann (German, 1888)
This suggestion for "sanitary underpants" by a German gynecologist shows how open, or crotchless, underpants, common at this time in America and elsewhere, could accommodate a menstrual pad. The design uses hooks on the outside of the underpants onto which rings on the pad holder attach.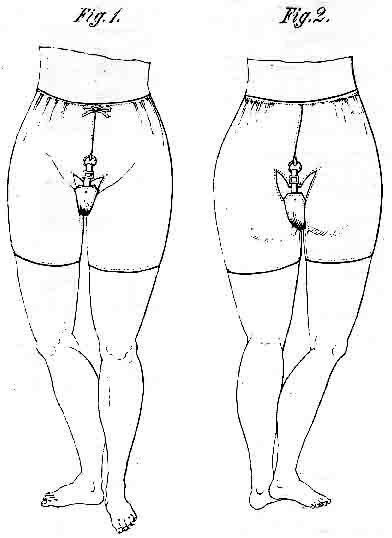 From left to right: Underpants, pad holder, washable (reusable) cotton pad. Note the rings on the ends of the pad holder, which attach to hooks on the outside of the underpants.
(The drawings are from "Zur Geschichte der Unterwäsche," 1980s?, Frankfurt am Main, Germany, the catalog of an exhibit of the history of underwear at the museum of the city of Frankfurt am Main, Germany. Imagine a city, state or federal museum in American holding such an exhibit. I can't. People would be predicting the end of American civilization - Wait! A woman already predicted that when I opened this museum, in 1994!)


---
© 2001 Harry Finley. It is illegal to reproduce or distribute any of the work on this Web site in any manner or medium without written permission of the author. Please report suspected violations to hfinley@mum.org