Kotex ad emphasizing shame, 1992
Compare the American "Modess, because . . ." ads, a French Modess ad, a French ad featuring just a man!, and ads for teens.
See Kotex items: First ad (1921) - ad 1928 (Sears and Roebuck catalog) - Lee Miller ads (first real person in amenstrual hygiene ad, 1928) - Marjorie May's Twelfth Birthday (booklet for girls, 1928, Australian edition; there are many links here to Kotex items) - Preparing for Womanhood (1920s, booklet for girls; Australian edition) - 1920s booklet in Spanish showing disposal method - box from about 1969 - "Are you in the know?" ads (Kotex) (1949)(1953)(1964)(booklet, 1956) - See more ads on the Ads for Teenagers main page


Kotex menstrual pad ad with a man and no woman,
Malaysia, 2005
Fool the man! That's the point of many ads for menstrual hygiene. Many American ads show women how to keep their menstruation secret, for example Pursettes (where size disguised them), and Kotex (also here) which brings us to a shocking reversal of attitude.
Men know all about it! They always did, starting with whispers in grade school for many. But few would broach the shameful subject with girls and the mutual secrecy continued, mostly forever.
Now Kotex and Nana (scroll down about 1/3 the page) and maybe others, have changed that. As the present ad shows, a man and only a man appears in an ad for Kotex - and in a Muslim country!
Jacqueline Ann Surin wrote an article in a Malaysian publication (Sun2Surf, a bright image for this time of year) about this revolutionary event. She writes,
The idea behind the ads was that it wasn't going to be about the women, but about men admiring women for their freedom, intelligence and empowerment, explains Kimberly-Clark Trading (M) Sdn Bhd marketing director for Malaysia and Singapore, Rosnah Ramly . . . .

She explains that Kotex's brand strategy runs parallel to changes in women and in society. "We spend a significant amount on research to understand what women want."

So what do women want? Rosnah says market research shows that women want to feel empowered, and that the traditional sanitary napkin ads don't do that. "I consistently tell my team to make sure that we don't portray women as pathetic or dependent on men. Women today are empowered in their own right," she says. [The story also discusses selling shampoo to women who must wear head scarves.]
Other ads for menstrual hygiene featuring just a man include the French Nana, here and here . And another is a Kotex ad which mirrors this Malaysian one but for the Netherlands. So is Kotex leading the revolution?
In general I think it's healthy to connect men with menstruation although not in the sense that only a man could cause such misery, as a Welsh woman wrote me: "When I was in school we used to say 'Henry was here,' as only a man could cause such pain and inconvenience." (See Words and expressions for menstruation, Wales section.)
Below: This is the only size I could find for the ad. "Kotex" is in the upper left corner.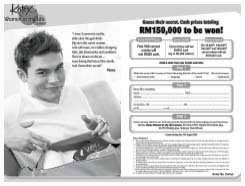 © 2006 Harry Finley. It is illegal to reproduce or distribute any of the work on this
Web site in any manner or medium without written permission of the author.
Please report suspected violations to hfinley@mum.org