See early tampoms Dale, Wix and B-ettes and a bunch of other earlier ones.
Ad Aug 1965 - actress Susan Dey ad, 1970 - gymnast Mary Lou Retton ad, 1986 - ad, British, 1994 (the thong advantage)
See more Tampax items: American ad from August 1965 - nudity in an ad: May 1992 (United Kingdom) - a sign advertising Tampax during World War II - the original patent - an instruction sheet from the 1930s
See a Modess True or False? ad in The American Girl magazine, January 1947, and actress Carol Lynley in "How Shall I Tell My Daughter" booklet ad (1955) - Modess . . . . because ads (many dates).


Playtex Sport menstrual tampon, 2006 (?), U.S.A.
Box, front & back
By popular request - actually, a woman e-mailed and asked to see what this tampon was like - I present this Playtex tampon.
I have two complaints. The plastic applicator is one; I thought we were beyond plastic after plastic applicators covered beaches and didn't deteriorate in a short time, like cardboard. The second is the implicit claim that this is somehow especially appropriate for sports (Tampax also makes a "sport" tampon but my CVS and Shoppers Food Warehouse didn't have it). You mean the other tampons drop out or leak when playing sports? You mean when Tampax claimed in early ads that women could play sports with its tampons the company lied? You mean in the over half century of tampons the companies have just figured out how to enable women to play sports while using a tampon? Like, wow! What else are they telling us that isn't true?
And why are the women (or is that one woman?) wearing dresses? Wouldn't an unambiguous image be shorts or a bathing suit?
But I'm just a guy. The woman who e-mailed me said her girlfriend thought this tampon was great, so there you go. The e-mailer herself has had a hysterectomy so this is sheer curiosity on her part; why buy a box of tampons when you don't need them?
I do like the red on the box and instructions, that dreaded - at least formerly - color American menstrual products manufacturers once thought so inappropriate for using on menstrual products (but see an exception). As I said on a Canadian radio business program, it would be like making the wrapping for toilet paper brown and yellow rather than with white puffy clouds, etc.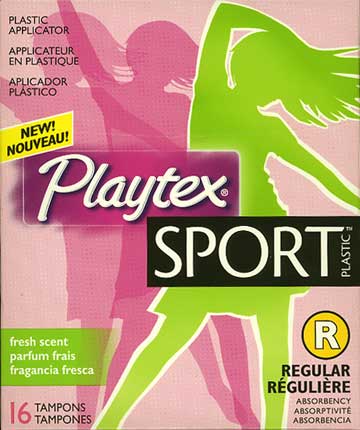 Below: No, the back of the box is not bigger than the front. I enlarged it to make the text readable.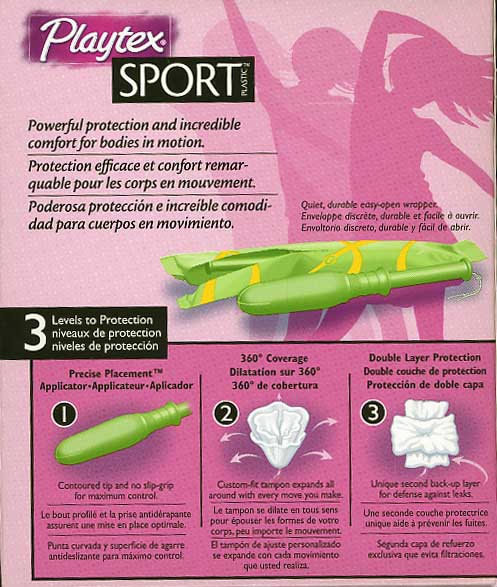 © 2007 Harry Finley. It is illegal to reproduce or
distribute work on this Web site in any manner or
medium without written permission of the author. Please report suspected violations to hfinley@mum.org