See more Kotex items: First ad for the pad (1921; scroll to bottom of page) - pad ad, 1928 (Sears and Roebuck catalog) - Lee Miller pad ads (first real person in a menstrual hygiene ad, 1928) - Marjorie May's Twelfth Birthday (booklet for girls, 1928, Australian edition; there are many links here to Kotex items) - Preparing for Womanhood (1920s, booklet for girls; Australian edition) - 1920s booklet in Spanish showing pad disposal method - box from about 1969 - "Are you in the know?" ads for pads (1949)(1953)(1964)(booklet, 1956) - See more ads on the Ads for Teenagers main page
See a Modess True or False? ad in The American Girl magazine, January 1947, and actress Carol Lynley in "How Shall I Tell My Daughter" booklet ad (1955) - Modess . . . . because ads (many dates).



Newspaper ads for Fibs, the first successful Kotex menstrual tampon
Read about the life and death of this tampon.
See the actual tampon and more ads here and here.
A genealogy researcher kindly sent the scans, some of many of tampons from newspapers. She wants to remain anonymous.
Below: May 23, 1940, Mansfield [Ohio] News Journal
Below: April 23, 1940, Oakland Tribune, California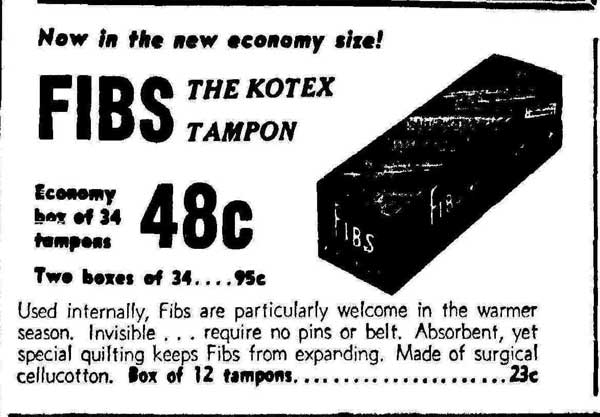 Below: Dec. 2, 1950, Joplin Globe, Missouri
Below: Sept. 17, 1959, Tri City Herald, Pasco, Washington
See Cashay and Dale tampons, and very early Tampax and fax.
© 2007 Harry Finley. It is illegal to reproduce or distribute
work on this Web site in any manner or medium without written permission
of the author. Please report suspected violations to hfinley@mum.org