Possibly the first American disposable pad: Lister's Towels
Early Midol ads for headache, hiccups, and PMS.
See a prototype of the first Kotex ad.
See more Kotex items: Ad 1928 (Sears and Roebuck catalog) - Marjorie May's Twelfth Birthday (booklet for girls, 1928, Australian edition; there are many links here to Kotex items) - 1920s booklet in Spanish showing disposal method - box from about 1969 - Preparing for Womanhood (1920s, booklet for girls) - "Are you in the know?" ads (Kotex) (1949)(1953)(1964)(booklet, 1956) - See more ads on the Ads for Teenagers main page



The Museum of Menstruation and Women's Health

Early ads for American menstrual pads
Paper and cloth menstrual pads
Newspapers, U.S.A.
Kotex was not the first American disposable pad, as the ads below show. Yes, Johnson & Johnson made the throw-away Lister's Towels - pads - in the late 19th century but who would've guessed there were other makers of the pads in the 1910s and 1920s? Not me!
As you can see (and here, too) companies sold washable cloth pads along with paper pads. Cloth pads gradually faded during the 1920s in America (but not in Germany!) only to revive in the last quarter or so of the 20th century, partly from ecological concerns, partly from women accepting their periods..
I thank the generous Ben Truwe for sending these copies and many others!
| | |
| --- | --- |
| Below: From the Fitchburg, Massachusetts, Sentinel, Oct. 7, 1889 | Below: From the New-York Times, Oct. 20, 1891 (p. 12) |
| | |
Below: (Arrow) from the Lowell, Massachusetts, Sun, June 21, 1911 (p. 20)
Below: (Arrow) from the Connellsville, Pennsylvania, Daily Courier, September 5, 1913
Below: from Harper's Bazaar, October 15, 1887
Below: from Philadelphia Medical Times, January 15, 1881
Below: from The Ladies' Home Journal and Practical Housekeeper, March 1887.
It's a reply to a question from a reader ("Prospective Mother") from an earlier issue.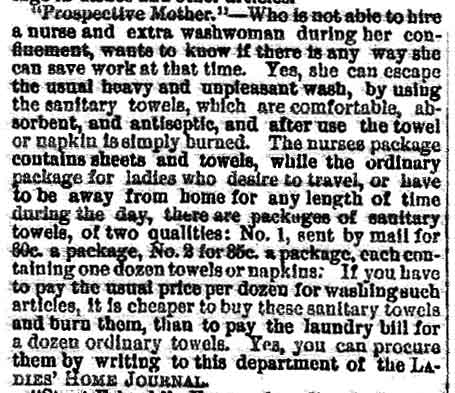 See more early newspaper ads and early Kotex newspaper ads
© 2008 Harry Finley. It is illegal to reproduce or distribute work on
this Web site in any manner or medium without written permission of the author.
Please report suspected violations to hfinley@mum.org