More Modess pad stuff: 1928 ad - June 1928 ad (with "Silent Purchase" coupon) - Ad, 1931 - wrapped Modess pad for dispenser, 1930s - "Sanitary Shield" underpants, 1972 - "Modess . . . . because" ads (1940s-1970s) - "Modess . . . . because" pad dispenser - French Modess ad, 1970s - "Growing Up and Liking It" menarche booklet covers - "Growing Up and Liking It," entire booklets: 1944, 1972
Gilbreth report to Johnson & Johnson with recommendations for Modess pads (1927)



Ad for Modess menstrual pads, 1957, Australia
My feeling is that Modess has usually been anxious to emphasize the suitability of the pad for women's fashion, maybe because of the Gilbreth report (1927), and often showed a single fashionably dressed woman (1928 ad, June 1928 ad with "Silent Purchase" coupon, and ad, 1931, plus the "Modess . . . . because" series of ads from the 1940s to the 1970s). This ad reflects the "Modess . . . . because" ad campaign in America going on at that time. Look at the left belt box at the bottom of this page; it probably stems from that "because" campaign.
The Gilbreth report also emphasized how uncomfortable women were with coarse gauze pad covering, and this may be a late expression of that.
My thanks to an Australian friend of this museum for this ad!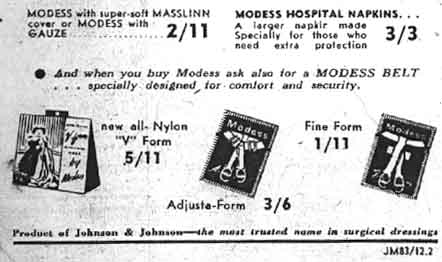 More Modess pad stuff: 1928 ad - June 1928 ad (with "Silent Purchase" coupon) - Ad, 1931 - wrapped Modess pad for dispenser, 1930s - "Sanitary Shield" underpants, 1972
© 1998 Harry Finley. It is illegal to reproduce or distribute any of the work on this Web site in any manner or medium without written permission of the author. Please report suspected violations to hfinley@mum.org