See more ads for menarche-education booklets: Marjorie May's Twelfth Birthday (Kotex, 1933), Tampax tampons (1970, with Susan Dey), Personal Products (1955, with Carol Lynley), and German o.b. tampons (lower ad, 1970s)
And read Lynn Peril's series about these and similar booklets!
See more Kotex items: First ad (1921) - ad 1928 (Sears and Roebuck catalog) - Lee Miller ads (first real person in amenstrual hygiene ad, 1928) - Marjorie May's Twelfth Birthday (booklet for girls, 1928, Australian edition; there are many links here to Kotex items) - Preparing for Womanhood (1920s, booklet for girls; Australian edition) - 1920s booklet in Spanish showing disposal method - box from about 1969 - "Are you in the know?" ads (Kotex) (1949)(1953)(1964)(booklet, 1956) - See more ads on the Ads for Teenagers main page



MUSEUM OF MENSTRUATION AND WOMEN'S HEALTH
Menarche ads for Tampax tampons (1989) and Kotex (1966)
Below: March 1989, Seventeen magazine. Actress Carol Lynley (at least it sure looks like her) must be thinking, "What a downer!" (More of her menstrual ads here.) She looks so different from most of similar ads - especially the girl at the bottom of this page! But, truthfully, the actress probably reflected the attitude of most menstruating women (read some of those feelings here). Tampon ads for girls just beginning to menstruate are rare; the stretching or breaking of the hymen - "loss of virginity" - lurks in the back of parents' minds and especially in Hispanic cultures. It was an obstacle that troubled Tampax early on.
Someone clipped the coupon at the bottom (the black area).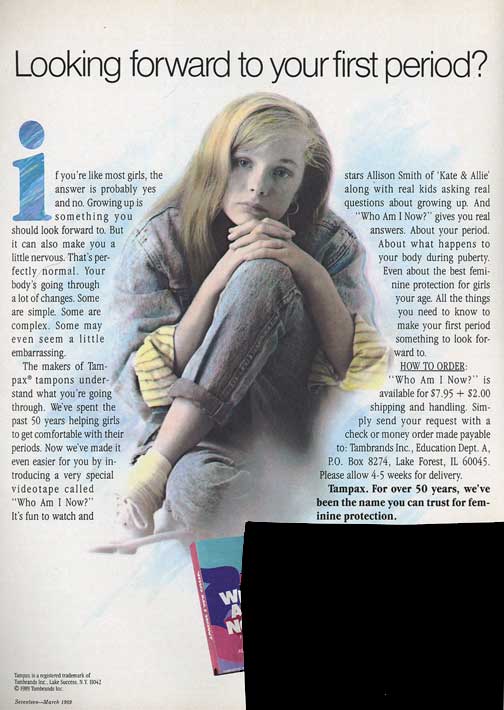 Below: A much more upbeat girl in this ad for the Kotex Introductory Kit, in Woman's Day magazine, Nov. 1966. It resembles menarche ads from the 1930s.
See more ads for menarche-education booklets: Marjorie May's Twelfth Birthday (Kotex, 1933), Tampax tampons (1970, with Susan Dey), Personal Products (1955, with Carol Lynley), and German o.b. tampons (lower ad, 1970s)
© 2007 Harry Finley. It is illegal to reproduce or distribute any of the work on this Web site in any manner or medium without written permission of the author. Please report suspected violations to hfinley@mum.org