See the same ad from the U.S.A., 1938, with slightly different text.
More Tampax ads:
Ad Aug 1965 - actress Susan Dey ad, 1970 - gymnast Mary Lou Retton ad, 1986 - ad "Are you sure I'll still be a virgin?" Feb. 1990 - ad (British, nude) 1992 - Tampax sign (World War II) - ad, British, 1994 (the thong advantage)
See a Modess True or False? ad in The American Girl magazine, January 1947, and actress Carol Lynley in "How Shall I Tell My Daughter" booklet ad (1955) - Modess . . . . because ads (many dates).




The Museum of Menstruation and Women's Health
The Classiest Pad Ads Ever: Modess . . . . because
Excerpts from"A Company That Cares: One Hundred Year Illustrated History of Johnson and Johnson" by Lawrence G. Foster (1986).
It's strange that the book doesn't mention maybe the most famous photographer (artistically, anyway) to photograph ads in the Modess . . . . because series: Diane Arbus. This was before she took the pictures she became famous for, those unsettling portraits of marginalized people. Maybe the company didn't want her pictures - and suicide - associated with the brand.
As you will see here, more words did push their way in to the ad text. But the combining of an unmentionable product with such beauty was, and is, almost unheard of (but see early Kotex ads).
A Dutchman kindly sent these scans from his copy of the book.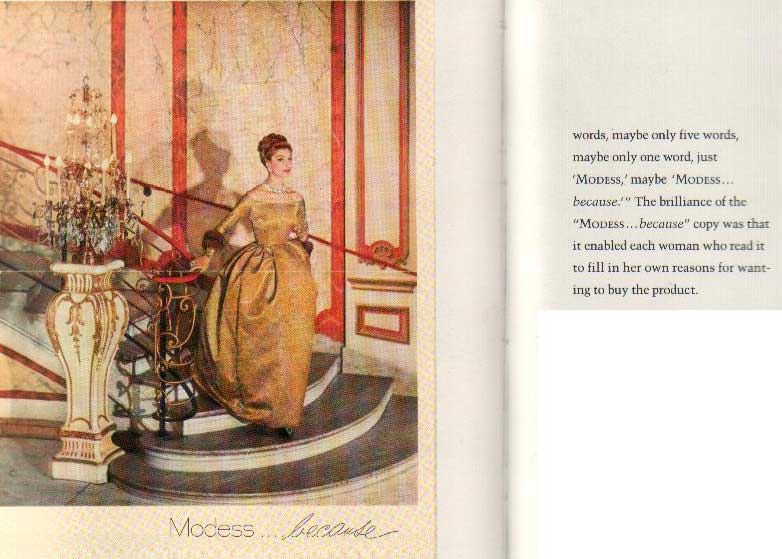 See more ads in this series here.
See a Modess . . . . because pad dispenser from the Smithsonian Institution, in Washington, D.C. (U.S.A.).
END of Modess book excerpts.
© 2005 Harry Finley. It is illegal to reproduce or distribute work on this Web site
in any manner or medium without written permission of the author. Please report
suspected violations to hfinley@mum.org