American Meds tampon and ad, 1967 - American Meds ad, 1941
And read Lynn Peril's series about these and similar booklets!
See more Kotex items: First ad (1921) - ad 1928 (Sears and Roebuck catalog) - Lee Miller ads (first real person in amenstrual hygiene ad, 1928) - Marjorie May's Twelfth Birthday (booklet for girls, 1928, Australian edition; there are many links here to Kotex items) - Preparing for Womanhood (1920s, booklet for girls; Australian edition) - 1920s booklet in Spanish showing disposal method - box from about 1969 - "Are you in the know?" ads (Kotex) (1949)(1953)(1964)(booklet, 1956) - See more ads on the Ads for Teenagers main page



Brilliant packaging for Camelia menstrual pads, in Germany, page 2 (see page 1)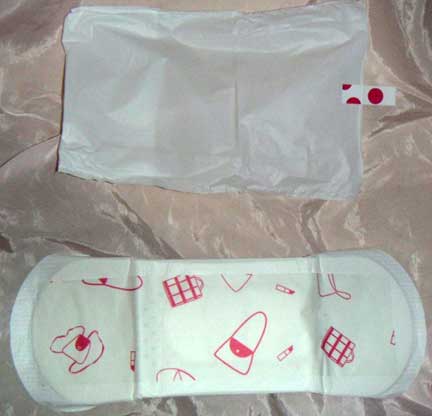 The pad, strip-to-cover-the-adhesive, and wrapping. Elvira, who shot the photos, notes that the outlines of everyday things look like stains.
Three languages, Italian, French and German, explain the product to women. Single-language packaging is increasingly rare in the European Union.
© 2003 Harry Finley. It is illegal to reproduce or distribute any of the work on this Web site in any manner or medium without written permission of the author. Please report suspected violations to hfinley@mum.org