See Pad-n-all, with belt from about the 1930s-40s, U.S.A.
See a Modess True or False? ad in The American Girl magazine, January 1947, and actress Carol Lynley in "How Shall I Tell My Daughter" booklet ad (1955) - Modess . . . . because ads (many dates).



Lakshmi Murthy: Teaching girls about puberty & menstruation
and how to make washable menstrual pads, in rural India
The instruction wheel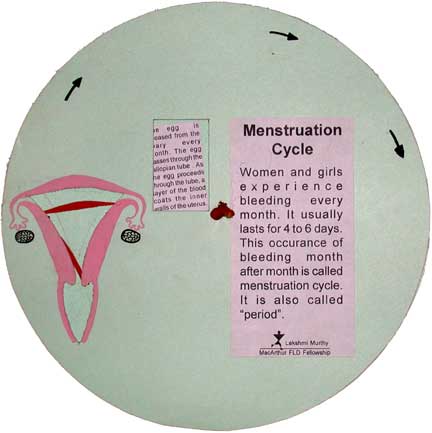 You're looking at the wheel Ms. Murthy sent to this museum, which is 9" (22.9 cm) in
diameter. By turning the topmost of two wheels, facing us, the various stages of the
cycle, as demonstrated by the uterus (left), appear with an explanation in the central window.
---
Turning the wheel brings another stage (menstruation) into the uterus window, above.
---
"The chakka, or wheel, demonstrating the cycle," writes Ms. Murthy. The script is Hindi, the language of the region. (Photo courtesy of Lakshmi Murthy)


---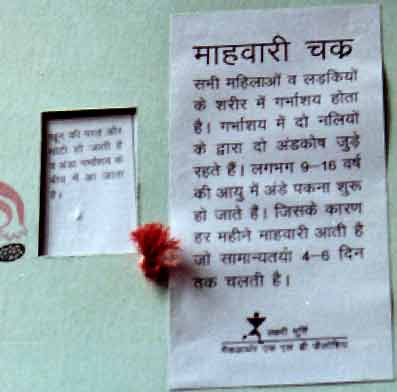 This enlargement of the photo above shows the Hindi script. The first word, at right
top, is the same as the first one on the instructions for making washable pads in
the neighboring state Uttar Pradesh, where Hindi is also the language, and probably
means menstruation.
©2002 Harry Finley. It is illegal to reproduce or distribute any of the work on this Web site in any manner or medium without written permission of the author. Please report suspected violations to hfinley@mum.org