See Pad-n-all, with belt from about the 1930s-40s, U.S.A.
See a Modess True or False? ad in The American Girl magazine, January 1947, and actress Carol Lynley in "How Shall I Tell My Daughter" booklet ad (1955) - Modess . . . . because ads (many dates).



Lakshmi Murthy: Teaching girls about puberty & menstruation and
how to make washable menstrual pads, in rural India
The actual menstrual pad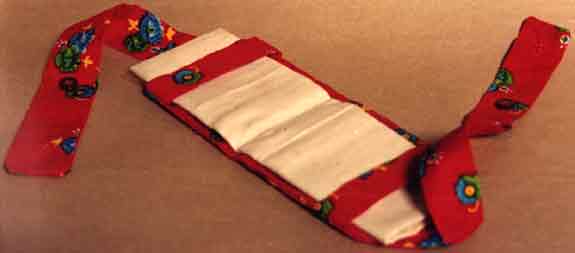 The real menstrual pad that girls are taught to make is above. Ms. Murthy writes, "The red cloth is the fabric that women buy to stitch their skirts and blouses. It is traditional pattern, so we selected that as at some point girls would be cutting up their old skirts. The red dye bleeds. Anyway, it does not touch the skin so there is no problem there. . . . Do visit us if you are ever in India." (Photo courtesy of Lakshmi Murthy)
---
A pad-making class in progress. (Photo courtesy of Lakshmi Murthy)
---
The museum's menstrual pad peeking out of its carrying case, left and underneath.
---
Part of the carrying case sent with the cloth pad, showing the beautiful fabric.
©2002 Harry Finley. It is illegal to reproduce or distribute any of the work on this Web site in any manner or medium without written permission of the author. Please report suspected violations to hfinley@mum.org