Marjorie May, three booklets, 1935 main page
See a Kotex ad advertising this booklet.


As One Girl to Another (puberty & menstruation booklet from
Kotex sanitary napkins, 1940, U.S.A.)
See the first page for a general discussion of the booklet.
See an ad offering this free booklet! And see a tin of Quest powder (and an ad for it). Kotex, on page 10, recommended sprinkling the powder on pads to stop the odor. (Read what causes the odor of menstruation.) The booklet mentions Fibs tampon, the Kotex tampon, developed in the 1930s, on page 16. Fibs had no applicator, unlike its main competitor, the two-tube Tampax (read and see the first Tampax?).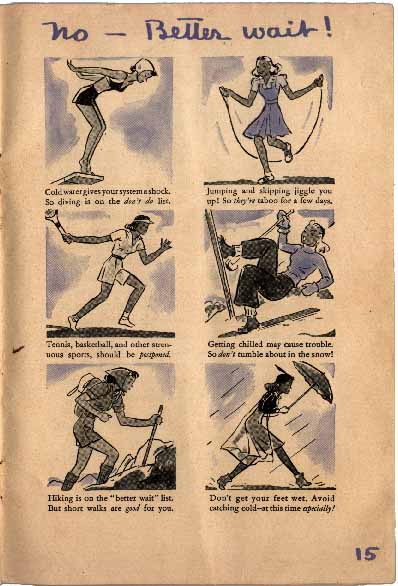 Next page
Go to cover, introduction ("as one girl to another"), page 1 ("lollipops to lipsticks"), 2 ("You're YOURSELF!") and 3 (definition), 4 and 5 (cramps), 6 (use a calendar) and 7, 8 ("you need never feel the least embarrassed.") and 9 ("never give your secret away"), 10 (cleanliness) and 11, 12 and 13 ("boys know all about menstruation." [!]), 14-15 (do's and don't's chart), 16 (tampons) and 17, 18 (how to attach a menstrual pad to a belt) and inside back cover (Kotex calendar 1940-41), back cover

© 1999 Harry Finley. It is illegal to reproduce or distribute any of the work on this Web site in any manner or medium without written permission of the author. Please report suspected violations to hfinley@mum.org