Tampax Junior menstrual tampon, 1939-40, U.S.A., (page 4)
Instructions and advertising insert
In 1997 Tambrands, the then-maker of Tampax, gave these boxes to this museum as part of an amazing gift of 450 boxes of tampons dating to the founding of the second Tampax company, 1936, plus hundreds of other items.
Below: The instruction sheet measures 8 7/16" x 5 1/16" x (21.6 x 12.9 cm). The top side, right below, I left in color. I made the reverse (below it) in black and white; the type is blue.
Compare these instructions with those from 1938 in France and America; the hand below is on those instructions but with some additional ones. Note that the lady's a nurse, common on early menstrual products. See a fierce German nurse! See a fierce Dutch nurse!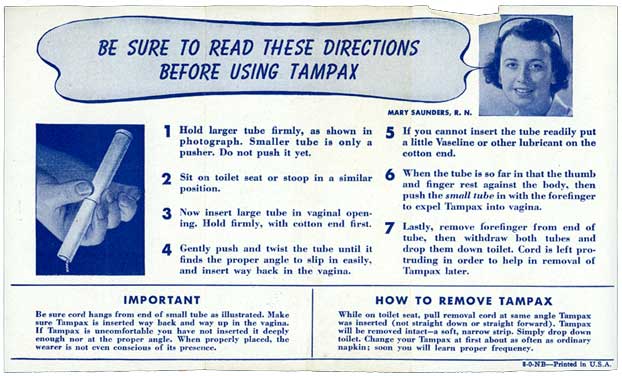 Small Wonder says that economy packages - below - first appeared in 1938. This sheet measures 5" x 3".
© 2006 Harry Finley. It is illegal to reproduce or distribute any of the work on this Web site in any manner or medium
without written permission of the author. Please report suspected violations to hfinley@mum.org