And, of course, the first Tampax AND - special for you! - the American fax tampon, from the early 1930s, which also came in bags.
See a Modess True or False? ad in The American Girl magazine, January 1947, and actress Carol Lynley in "How Shall I Tell My Daughter" booklet ad (1955) - Modess . . . . because ads (many dates).



Chart
"Standing Female Pelvic Organs"
for the Tampax Educational Department
Dr. Robert Dickinson, who wrote the influential pro-tampon "Tampons as Menstrual Guards" in the 1945 Journal of the American Medical Association, created this chart for the Tampax Education Department. Dickinson was a well-known American gynecologist who helped Tampax in many ways.
According to "Small Wonder," the company history, Tampax opened its first formal education department in March, 1941, so this chart could date to that time - or maybe earlier for an informal department. In the 1940s (and before; see the bottom of this page) Tampax was sending "Tampax ladies" to schools and colleges - even parochial schools - to explain its tampon and promote sales. They might have taken copies of this chart with them.
Sales clerks explained the 1930s Wix tampon using this chart.
A Dutchman kindly sent MUM this scan.
The charts measure height 27.8 cm (about 10.9") x width 21.5 cm (about 8.4")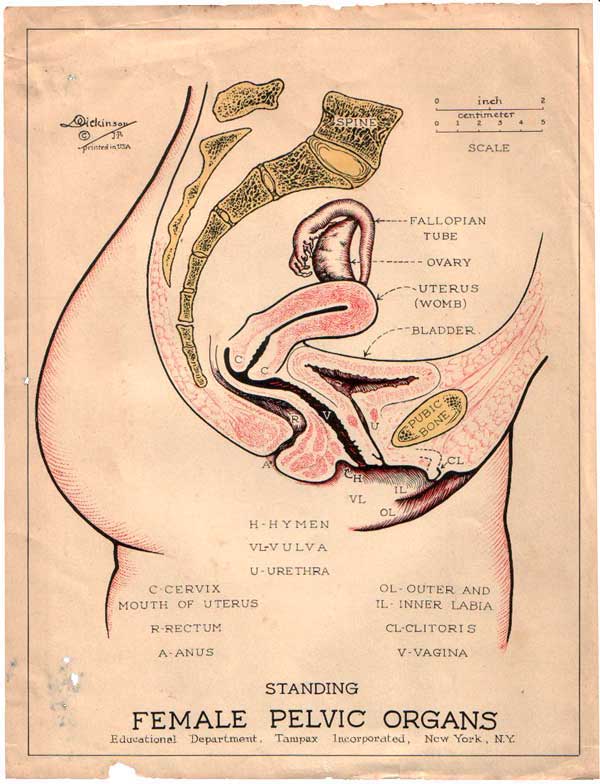 © 2006 Harry Finley. It is illegal to reproduce or distribute any of the work on this Web site in any manner or medium without written permission of the author. Please report suspected violations to hfinley@mum.org