See another Danish ad from about this time, a Swedish ad (1970s)showing a napkin belt

See how a woman wore a belt in a Dutch ad. See a classy 1920s ad for a belt and the first ad (1891) MUM has for a belt.
See how women wore a belt (and in a Swedish ad). See a modern belt for a washable pad and a page from the 1946-47 Sears catalog showing a great variety.
More ads for napkin belts: Sears, 1928 - modern belts - modern washable - Modess, 1960s
Actual belts in the museum
And, of course, the first Tampax AND - special for you! - the American fax tampon, from the early 1930s, which also came in bags.
See a Modess True or False? ad in The American Girl magazine, January 1947, and actress Carol Lynley in "How Shall I Tell My Daughter" booklet ad (1955) - Modess . . . . because ads (many dates).



MUSEUM OF MENSTRUATION AND WOMEN'S HEALTH
Ad for Mimosept menstrual pads, 1970s, Denmark, Billed Bladet magazine
Below: Left-hand page (full spread). My translation lies under the picture.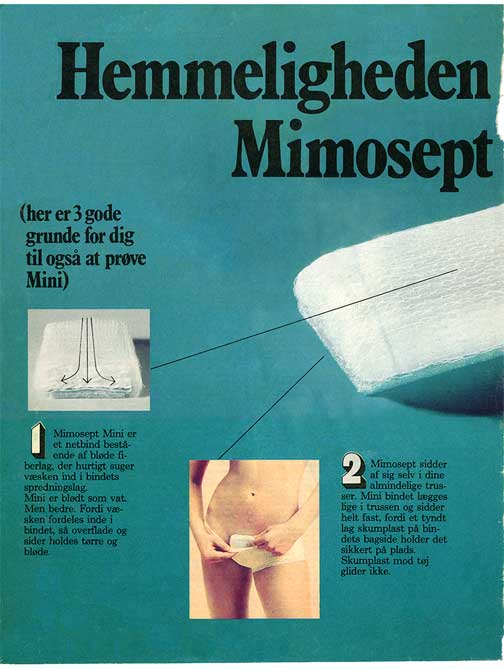 My translation of the text:
[Complete title, which runs across the right-hand page] The secrets behind Mimosept Mini's success

1. Mimosept Mini is a webbed sanitary napkin consisting of a soft fiber layer that quickly soaks up liquid in the pads dispersing layer. Mini is soft like cotton wadding. Because the liquid is spread around in the pad the surface and sides remain dry and soft.

2. Mimosept sits by itself in everyday panties. The Mini pad is put right into the panties and sits securely because a thin layer of foam on the pad's underside holds it securely in place. The foam layer next to clothing doesn't slip.
© 2007 Harry Finley. It is illegal to reproduce or distribute any of the work on this Web site in any manner or
medium without written permission of the author. Please report suspected violations to hfinley@mum.org