Belt topics
See how women wore a belt (and in a Swedish ad). See a modern belt for a washable pad and a page from the 1946-47 Sears catalog showing a great variety - ad for Hickory belts, 1920s? - Modess belts in Personal Digest (1966)
See a Modess True or False? ad in The American Girl magazine, January 1947, and actress Carol Lynley in "How Shall I Tell My Daughter" booklet ad (1955) - Modess . . . . because ads (many dates).



Drawing of a proposed washable German belt and pad, 1894
(from Livius Fürst, Die Hygiene der Menstruation in normalem
und krankhaftem Zustande [The Hygiene of Menstruation in
the Normal and Diseased State; Leipzig, Germany, 1894]
According to one source, in the 19th century most German women either made their menstrual pads or used nothing at all! Tampons, available in the U.S.A. in the early 1930s, seem to have appeared later in Europe (o.b. started after World War II).
Below is a drawing of a belt and pad proposed by a German writer and gynecologist, Dr. Livius Fürst, in 1894. In the small drawing to the right of the pad I show how the flap pulls up and buttons on the front of the belt. He suggests using cotton as the filler for the pad.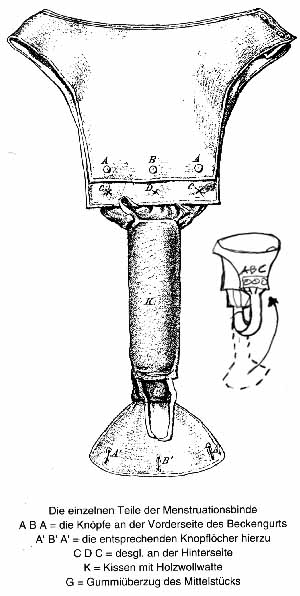 Translation:
The parts of the menstrual pad and belt
A B A = the buttons on the front of the belt
A'B'C' = the corresponding button holes
C D C = those on the back of the belt
K = pad with cotton
G = rubber covering of the middle part [I don't see it either, but it must be the dark part in the loop below the pad, K]
© 2001 Harry Finley. It is illegal to reproduce or distribute any of the work on this Web site in any manner or medium without written
permission of the author. Please report suspected violations to hfinley@mum.org