Read Dr. Lillian Gilbreth's - two of her kids wrote about her in "Cheaper by the Dozen" - critique of pads in 1927 for Johnson & Johnson, maker of Modess. And read the influential pad put-down "Tampons as Menstrual Guards" from 1945. Criticism of the Rely tampon, later associated with toxic shock syndrome, from a tiny Rochester, New York, newspaper (1975-76). Safety page. Tampax's defense: "Are Vaginal Tampons Prejudicial to Health?" (Proof for a British Tampax ad, 1952)



Douching with Lysol and Zonite in
Facts and Frauds in Woman's Hygiene
A Fearless Exposé of Misleading Claims and Dangers of Widely Advertised Products Used by Women [excerpts, pp. 142-157] by Rachel Lynn Palmer and Sarah K. Greenberg, M.D., The Sun Dial Press, New York, 1936
This hard-hitting book minces no words. Douching survives today, of course - but read The Perils of Vaginal Douching, an essay by Luci Capo Rome. And if you douche, this chapter should sent chills down your spine and make you wonder about what's in that liquid.
Read excerpts from this book criticizing 1930s pads, including Kotex, and tampons.

Read Dr. Lillian Gilbreth's - two of her kids wrote about her in "Cheaper by the Dozen" - critique of pads in 1927 for Johnson & Johnson, maker of Modess. And read the influential pad put-down "Tampons as Menstrual Guards" from 1945. Criticism of the Rely tampon, later associated with toxic shock syndrome, from a tiny Rochester, New York, newspaper (1975-76). Safety page. Tampax's defense: "Are Vaginal Tampons Prejudicial to Health?" (Proof for a British Tampax ad, 1952)
A Dutchman generously sent these scans.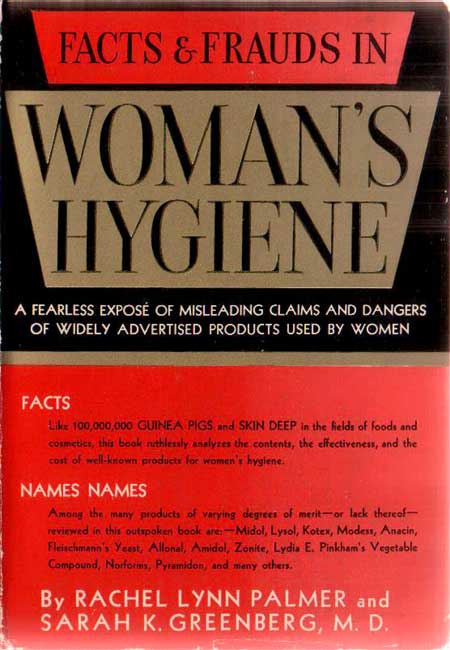 Read Dr. Lillian Gilbreth's - two of her kids wrote about her in "Cheaper by the Dozen" - critique of pads in 1927 for Johnson & Johnson, maker of Modess. And read the influential pad put-down "Tampons as Menstrual Guards" from 1945. Criticism of the Rely tampon, later associated with toxic shock syndrome, from a tiny Rochester, New York, newspaper (1975-76). Safety page. Tampax's defense: "Are Vaginal Tampons Prejudicial to Health?" (Proof for a British Tampax ad, 1952)
© 2006 Harry Finley. It is illegal to reproduce or distribute any of the work on this Web site in any manner or medium without written permission of the author. Please report suspected violations to hfinley@mum.org