Some comments about a Brazilian "new" Pill for menstrual suppression, released in 2001
Dr. Nelson Soucasaux, Brazilian gynecologist
Composition of the "new" Pill (named Gestinol 28): each tablet containing ethinyl estradiol 30mcg and the progestin gestodene 75mcg. Indication: Continuous contraception (that is, to be taken continuously, according to medical recommendation, obviously without the usual 7 days interval between each series of 21 tablets). For that reason, each package contains 28 tablets instead of the usual 21 (see the ad, below, published in the Brazilian gynecology journal Femina [November/December 2001, Vol 29, Nº 10]).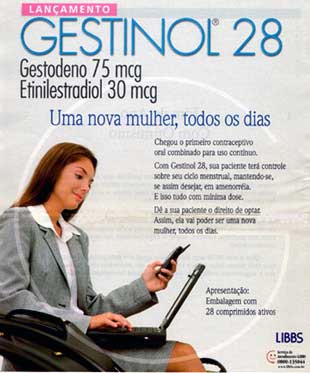 Dr. Soucasaux translates the ad:
A new woman, every day.
The first combined oral contraceptive for continuous use.
With Gestinol 28, your patient will have control over her menstrual cycle, keeping herself, if she so desires, in amenorrhea. And all of this with a minimal dose.
Give your patient the right to choose. [This sounds like the slogan from the pro-abortion folks in America. - your MUM]
In this way, she will be able to be a new woman everyday.
Package with 28 active tablets.
Nevertheless, this is only a disguise intended to conceal its real content from patients (and even some doctors!). That's because there isn't anything new about this product in terms of hormones and/or doses. Actually, it is nothing but the old (and excellent) monophasic combination of ethinyl estradil (30mcg) with gestodene (75mcg), originally released about 1989 in a series of 21 tablets with the names Minulet (Wyeth) and Gynera (Schering).
So, if it's announced as a new Pill, this is a fake. The fact is that a woman can take any monophasic combined oral contraceptive continuously and the results will be basically the same (but probably with some increased side effects, like the occurrence of much more frequent irregular bleedings until the so-desired amenorrhea is attained).
Some personal comments about the image on the ad (that is, how I see it): a beautiful and "modern" business-woman, simultaneously with her laptop and her cell-phone, probably traveling on business and who certainly doesn't have any time for herself and would like if a day lasted 72 hours. The perfect marketing for our time, isn't it?
[By the way, Dr. Soucasaux does not recommend suppressing menstruation.]
©Nelson Soucasaux, 2006