See a Modess True or False? ad in The American Girl magazine, January 1947, and actress Carol Lynley in "How Shall I Tell My Daughter" booklet ad (1955) - Modess . . . . because ads (many dates).


Libresse sanitary napkin ad and leaflet (1999, the Netherlands)
This recent ad for Libresse in the Netherlands shows two interesting features: women's concern about leaking menstrual fluid showing up on their clothing, and red as a design element and the true color of menstrual discharge, or close to it.
The Dutch and several other European countries deal more honestly with menstruation and, I suspect, with many other facts of life as well. European women have told me that being more open about menstruation both helps them accept it and is a reflection of this acceptance. And as far as men are concerned, they are far less interested in periods than some women seem to think. The culture of hiding it creates problems in itself.
The kind Dutchman who has sent so many items to MUM sent these scans.
The same woman appears in the leaflet below. The famous blue companies substitute for red in menstruation ads stems from at least the 1920s; Kimberly-Clark, which makes Kotex, called it "hospital blue" in its company history, and Dr. Lillian Gilbreth discussed it in her 1927 report to Johnson & Johnson, maker of Modess menstrual pads.
Not only does the company use the real color on the pads, it surrounds them with it in the ad and colors its packaging with it. No ducking the issue.
The largest words read, Still worried about spots?


---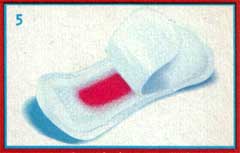 Now that's red!


---
At left, the words at top mean "Do you see a spot?"