More about women's health, masturbation, etc., in old American texts:
The Science of a New Life, by Dr. John Cowan, 1875 - in Dr. R. V. Pierce's "Spermatorrhea" section of The People's Common Sense Medical Adviser (63rd edition, 1895) - in The Sexual System and Its Derangements, by Dr. E. C. Abbey (1882) - in Kelly's Gynecology, 1928 - Rachel Maines wrote a book about other doctors' masturbating their patients, male and female, as a treatment, in the late 19th and early 20th centuries: The Technology of Orgasm: "Hysteria," the Vibrator, and Women's Sexual Satisfaction (Johns Hopkins Press, 1999)

MUSEUM OF MENSTRUATION AND WOMEN'S HEALTH
Vegetarianism, "natural foods," anti-smoking, etc.:
Plain Facts for Old and Young:
Embracing the Natural History and Hygiene of Organic Life,
by J. H. Kellogg, M. D. (1892, Burlington, Iowa, U.S.A.)
Introduction
Dr. John Harvey Kellogg was the staff physician at the Battle Creek Sanitarium, Battle Creek, Michigan, U.S.A., for many years, an advocate of vegetarianism (the Kellogg in Kellogg's corn flakes is his), foe of smoking and a respected surgeon. You might have seen the American movie about him. He passionately advocated enemas, as you will read here and there in these excerpts, and I wonder if he isn't one of the inspirations for the "high-colonic" fad in the U.S.A. He was maybe half a quack, but who can say today what will be seen as silly tomorrow?
He even more than the other authors on this site despised masturbation, even resorting to operating on a 10-year-old girl to stop her habit (as you will read, he betrays his doubts about whether he should have done it or not). He epitomizes the anti-masturbation mania.
By the way, read the whole book here in html form. Isn't the 'Net great - when it works?
I jump into the middle of the masturbation discussion; most of it repeats what Dr. Pierce and others, in the links above, have to say.
I trimmed the margins of the pages to speed down load.
SarahAnne Hazlewood generously donated this book to the museum.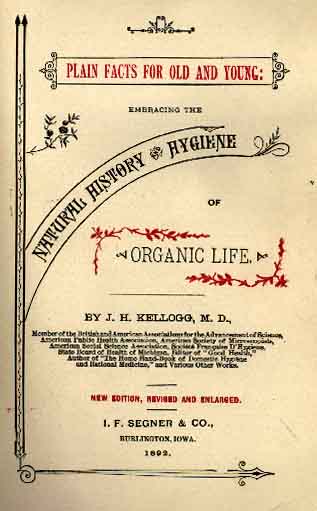 © 2006 Harry Finley. It is illegal to reproduce or distribute work on this Web site in any manner
or medium without written permission of the author. Please report suspected violations to hfinley@mum.org