Leona Chalmer's 1937 book with a drawing of a cup.
And read comments from people who have used a cup.
Do cups cause endometriosis? Not enough evidence, says the FDA.



A History of the Menstrual Cup (continued)
10 shares of Tassette stock for the Tassaway menstrual cup
Right before the company failed, in 1972, the donor of this certificate bought ten shares in Tassette, Inc., a fatally flawed menstrual cup (more about cups). Ms. Jupiter writes,
In 1971 I was so excited about Tassettes that I bought 10 shares of Tassette, Inc.
Suspicions of fraud involving shares in the company surfaced. Tassette, Inc., reported selling thousands of Tassaways, but not nearly enough to justify the high value of each share.

On July 17, 1972, a federal judge in Los Angeles issued an order permanently enjoining Robert Oreck and Tassette, Inc., from violating the registration provisions of the Securities Act of 1933 and the anti-fraud provisions of the Securities Act of 1933 and the Securities Exchange Act of 1934.

Interestingly enough, apparently women could still buy the cup in The Netherlands in 1972 and 1973, as these ads here and here show. (More ads: 1971 and 1972, and instructions for use of the cup.)
But the menstrual cup survived, first as The Keeper, later in other forms that I'll add to the site.
I thank Linda Jupiter for donating her stock certificate!
If the name name of the president of Tassette - Oreck - looks familiar (bottom right), it is. I pass an office of the vacuum-cleaner company that carries his brother's name every time I buy cat food.
Above: The Spirit of the Menstrual Cup telling her men how to make it?
Below: This appears on the reverse side of the certificate.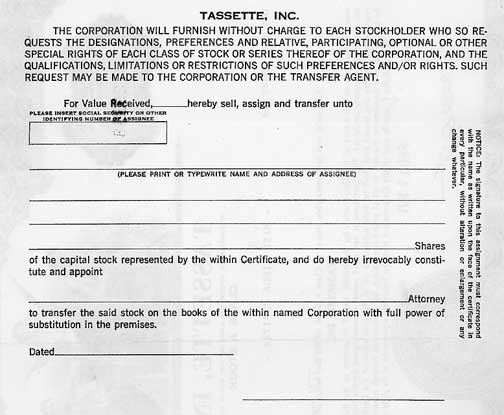 © 2007 Harry Finley. It is illegal to reproduce or distribute any of the work on this Web site in any manner or medium without written permission of the author. Please report suspected violations to hfinley@mum.org