See early tampons and a list of tampon on this site - at least the ones I've cataloged.



Secret menstrual tampons (1930s-1940s?, U.S.A.)
Box
The odd-looking - is it her haircut? - "shushing" woman embodies one of the two main things most women seek in menstrual products: concealment (the other is comfort; just my opinion. Read about a 1927 survey about this. And see the consequences of letting a male, especially, know that you are menstruating in a Kotex ad.)
Yellow screams for attention, at odds with the desire for secrecy on the manufacturer's part. When I was the art director of a magazine in Frankfurt, Germany, I fastened our past issues to the wall for decoration, and the yellow covers always grabbed my attention first.
This is one of the many early American tampons that had no insertion devices, such as the Tampax tube, a lack I think contributing to its disappearance. To me, that was the genius of Tampax (patent and history and one of the first examples).
Procter & Gamble kindly donated the box and contents as part of a gift of scores of menstrual products.
Nowhere can the buyer find the number of tampons inside (10), just as with Cashay tampons! The company assures her it's an "average month's supply" (lower part of box, above).
Side of box
End flap: Tampon companies wrote "No belts, pins, pads," or variations thereof, on their boxes and in their ads for decades, addressing many women's complaints about menstrual pads. Read more of their complaints, and doctors', too, in the roughly contemporary Dickinson Report.
Below is a sample tampon. The box measure 2.25" x 0.75" x 0.75" (about 5.7 x 1.9 x 1.9 cm) and contains the same instructions the big box does (here). The remaining sides have no text.
A transparent cellophane wrapper encloses the 'pon, whereas the large box has a translucent wrapper.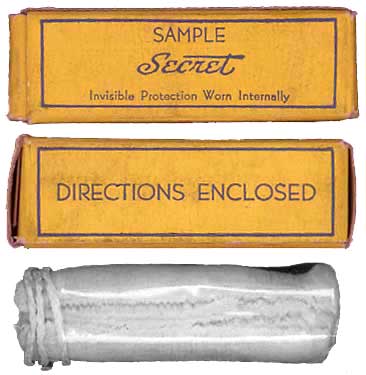 © 2001 Harry Finley. It is illegal to reproduce or distribute work on this Web site in any manner or medium without written permission of the author. Please report suspected violations to hfinley@mum.org